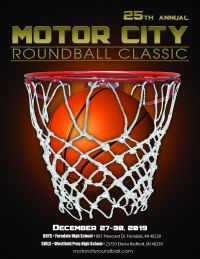 THE 25th ANNUAL
MOTOR CITY ROUNDBALL CLASSIC
OFFICIAL SCHEDULE - BOYS
Ferndale High School (881 Pinecrest, Ferndale, MI., 48220)
@ScoopIPS @MCRoundball
Monday,

December 27th

11:30 AM

1:10 PM


2:50 PM

4:30 PM

6:10 PM

7:50 PM



Tuesday, December 28th

10:30 AM

South Lyon East vs Dearborn Heights Annapolis

12:00 AM

Harper Woods Chandler Park Acad. vs Cincinnati (OH) Schroder

1:40 PM

Bloomfield Hills vs Howell

3:20 PM

Southfield A&T vs Detroit University Prep

5:00 PM

Erie Mason vs Harper Woods

6:40 PM

Grand Blanc vs

Chicago (IL) Lincoln Park




8:20 PM

East Lansing vs

Cincinnati (OH) Withrow



Wednesday,

December 29th

12:00 AM

Cincinnati (OH) Schroder vs Dearborn Advance Tech

1:40 PM

Madison Heights Madison vs Grand Rapids Union

3:20 PM

Detroit Pershing vs

Chicago (IL) Lincoln Park




5:00 PM

Walled Lake Northern vs Carleton Airport

6:40 PM

Troy vs Saginaw

8:20 PM

Detroit Martin L. King vs

Farmington



Thursday, December 30th

10:30 AM

Pontiac vs Detroit Cornerstone

12:00 AM

Dearborn Loyola vs Warren Lincoln

1:40 PM

Dearborn Divine Child vs Bridgeport

3:20 PM

Detroit Henry Ford vs Rochester Stoney Creek

5:00 PM

Toledo (OH) Rogers vs Mt. Clemens

6:40 PM

Birmingam Brother Rice vs Macomb Dakota

8:20 PM

Flint Carman-Ainsworth vs

Detroit Cass Tech



2019 MOTOR CITY ROUNDBALL CLASSIC ALL BOY GAMES WILL BE PLAYED AT:
FERNDALE HIGH SCHOOL 881 PINECREST DR. - FERNDALE, MI 48220
Teams and times may change. All teams involved will be notified immediately.
Teams listed first will be the AWAY TEAM (Dark Uniforms) and the team listed second,
will be the HOME TEAM (White Uniforms).
Example: Flint Beecher (Away) vs Reese (Home)